Ancient Wisdom, Modern Application

Why did the ancient people of the Earth not need coaches, experts, gurus, consultants or psychotherapists?
Why was mental dis-ease virtually unknown in Hawai'i prior to 1820?
Why is the land of Hawai'i even today one of the most blessed spots on Earth?
What is present in Hawai'i tradition that is missing in other places?

Huna is the healing and spiritual shamanism of ancient Hawai'i. In these pages you will find teachings that were once secret and carefully guarded. Today they are taught openly. Huna is neither Neuro Linguistic Programming (NLP Training) nor is it Hypnosis. If you're interested in spiritual growth and personal development, or expansion of your awareness and your connection to universal spirit, then you'll find that getting in touch with the consciousness on these pages will awaken something inside you that perhaps you only dimly remember.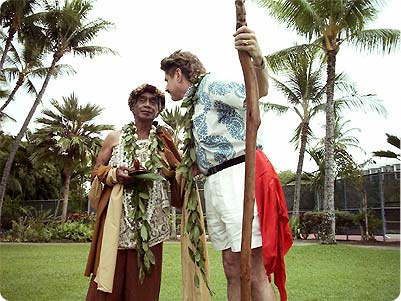 George Naope >Tad James

If you had told us ten years ago that there would be a great revival of this teaching, personally, we would have smiled at you and thought that you were a bit "out there." But you may have noticed that in the last ten years more and more people have become interested in finding out more about these kinds of teachings. There are more workshops on Shamanism, Native American Teachings, and similar kinds of teachings than ever before. People want to know:

"Who am I?"
"What is my spiritual nature?"
"What is the nature of the world in which we live?"
"How were people in ancient times connected to nature?"
"How can I connect with the elemental forces of nature and live in harmony with my environment?"
"Why do things happen the way they do?"

If you have asked yourself even one of these questions over the past few years, then it may be time to consider the study of Huna.
Huna is the original art and science of healing and spiritual development of the peoples of the earth. It isn't for everyone, but it is for someone who wants to know more about who we are and more about the nature of the world we live in.
Let us invite you to discover that world, and the teachings of ancient Hawaiian Huna. Come and discover why this teaching has become so important to us and hundreds of others who have attended our more than 25 Huna Intensives. (See Pictures of the Huna Intensive.) Personally, we notice that each time they come and join us they leave with a new sense who they are at a deeper and deeper level.
Next, read "What is Huna?"
Contacts
What Our Graduates Say
---
Click here to:
Read Chapter 1 of The Lost Secrets of Ancient Hawaiian Huna, Volume 1
See Pictures of the Huna Intensive.
Find out when our next training is: Schedule of Events
Enroll in our next training: Enrollment Form
If you can't join us in person, you can find Huna training on tape. This is an excellent resource for review or preparation for any of our Huna trainings: Huna: Exploring the Ancient Wisdom